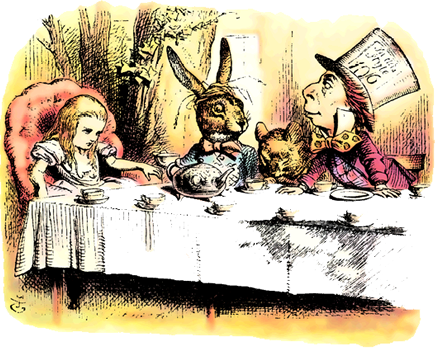 `Take some more tea,' the March Hare said to Alice, very earnestly.
`I've had nothing yet,' Alice replied in an offended tone, `so I can't take more.'
`You mean you can't take LESS,' said the Hatter: `it's very easy to take MORE than nothing.'
`Nobody asked YOUR opinion,' said Alice.
`Who's making personal remarks now?' the Hatter asked triumphantly.
Alice did not quite know what to say to this: so she helped herself to some tea and bread-and-butter...
`I want a clean cup,' interrupted the Hatter: `let's all move one place on.'
He moved on as he spoke, and the Dormouse followed him: the March Hare moved into the Dormouse's place, and Alice rather unwillingly took the place of the March Hare. The Hatter was the only one who got any advantage from the change: and Alice was a good deal worse off than before, as the March Hare had just upset the milk-jug into his plate.


Taken from "Alice in Wonderland" by Lewis Carroll
How to host your own Mad-Hatter tea party, coming soon...